Commercial Window Films
Energy Control Window Films
The World's Most Advanced Window Films
MEP Films is Australia's largest commercial window film specialist, with over 35 years experience. MEP Films supply an extensive range of premium quality window films that offer a host of benefits that included not only cost savings for commercial building owners but also provide for work environments that are safer, more secure and visually appealing.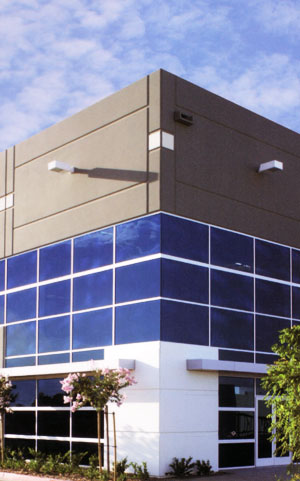 Rejects heat, blocks glare, saves energy, improves comfort, blocks UV rays, helps prevent fading, and enhances appearance
A Simple Solution to Improved Energy Management
Large expanses of glass in the workplace create energy-sapping heat, and annoying glare enabling greater transmission of damaging ultra violet rays, resulting in increased energy usage. The solution is MEP Films and their range of premium Energy Control Window Films to achieve a more comfortable working environment.
Save Energy Costs
Unprotected windows with poor thermal performance mean heat gain in summer and heat loss in winter. With Energy Control Window Films from MEP Films up to 79% of solar energy is blocked from entering the workplace.
In addition, up to 30% of heat loss can be prevented in winter. This means the energy efficiency of commercial buildings can be dramatically improved with less energy consumption from air conditioning and heating systems:
A simple yet effective way to reduce overheads.
High Quality Film Construction
These premium grade Energy Control Window Films are manufactured by encasing a patented metal alloy coating between 2 layers of high quality polyester films, which when combined, reflect heat and dramatically reduce glare.
These layers bonded together with special strength adhesives and are finished with a patented tough, scratch-resistant coating. MEP's Energy Control Window Film is applied using the manufacturer's patented Clear Distortion Free dry adhesive system, which forms a chemical bond between the film and glass.
Energy Control Window Films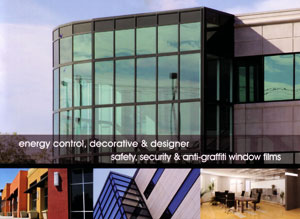 Energy Modelling Analysis
At MEP Films, proprietary energy modelling software is used to analyse energy usage and operating costs.
To estimate the possible energy savings payback periods and the return on you investment, ask you MEP Films representative for an obligation-free energy audit.
A detailed report will be provided with an Energy Control Window Film solution that maximises building energy performance. Details can be downloaded from our website.
Glare Reduction
Glare is unwelcome light and a persons ability to see and focus is affected by the eyes response to light. Too much light transmission can cause eye stress, headache, fatigue and a loss in productivity.
Energy Control Window Films cut glare by up to 90% and yet the ability of the eye to see (Visual Acuity), is only marginally reduced.
This means an improved and more comfortable working environment especially for those using computer screens, or perhaps at window facing workstations.
UV Protection
Energy Control Window Films from MEP Films block up to 99% of the sun's damaging UV rays and are certified to the maximum Solar Protection Rating of SPR 50+.
This is achieved by impregnating the film layers and adhesives with ultra-violet absorbers.
Workers and customers alike are protected from UV exposure, as are valuable furnishings, fittings and window display stock.
Benefits Include:
Economical upgrading of existing designs, flexible design tool that transforms plain glass, wide range of decorative finishes or pre-printed designs, exterior or interior use, creates dramatic effects, digital graphics and computer technology design service available.
Decorative & Designer Window Films

Make an Impact and Bring your Workspace to Life
Interior and exterior glass surfaces can be transformed into exciting and practical works of art. Corporate identity can be reinforced, retail spaces, offices and workspaces enhanced. The possibilities are simply endless and are as varied as your imagination.
A New Dimension in Design and Fit-Out
Decorative and Designer Window Films from MEP Films offer a whole new design dimension for architects, interior designers, fit-out consultants and building owners. The effects you achieve are limited only by your imagination, with a range of films that include opaque, frosted (acid etched effect), sparkle (sandblasted effect) and pre-printed designs.
Glass partitioned offices take on a brilliant new look, providing privacy without the 'closed in' feeling or the capital cost and the maintenance of traditional sandblast and acid etched glass, curtains or blinds. Company logos and graphics, office identity markers and retail fit-outs are just some of the many eye-catching possibilities that can be achieved using MEP's Decorative and Designer Window Films.
Safety, Security & Anti-Graffiti
Magnum security window films design and manufacturing excellence.
Magnum Safety & Security Window Films are designed to prevent glass from shattering or to safely contain the glass shards in the event of breakage. They are manufactured using single or multiple layers of premium quality polyester film bonded together to form a heavy gauge, high-tensile coating.
A patented technologically advanced adhesive is used to affix the film to the glass. This in combination with the tough film layers gives these films their impressive impact-energy absorption, glass fragment retention and extreme penetration resistance qualities.
High Grade Protection for People and Property
Safety and security risks have in recent times intensified around the world leaving many buildings with sizable glazed areas exposed. The damage to commercial property from violent weather or some other extreme events can be severe, as can the injuries to you and your staff, sustained from propelled glass shards.
The graphics below detail the high quality installation of 'film to glass' required today, to meet current global security standards including SCES* Approval.
Blast Hazard Reduction with Magnum Security Window Films
In an explosion, for example from a bomb or an industrial accident, extreme pressure waves cause glass to shatter and fly through the air with lethal force.
The application of MEP Films' Magnum Security Window Film can help mitigate the risk of injury due to broken glass and help reserve the integrity of the building envelope. Magnum Security Window Films have been tested in simulated bomb blast applications and are deemed effective in providing significant hazard reduction.
decreases the risk of injury from flying glass
holds broken shards of glass together
protects from wind-borne debris
reduces risk of injury during cyclones, severe storms and natural disasters
helps building owners meet a 'duty of care'
provides security for building occupants
desists unwelcome intrusion
Testing & Approvals
Magnum Safety and Security Window Films have been extensively tested and meet numerous standards including:
clear and tinted safety and security window film products that have been tested by the University of NSW Building Research Centre and exceed Australian and New Zealand 'Human Impact' Consideration AS/NZS 2208
Safety and Security Window Films can be used to upgrade non conforming glass to Australian & New Zealand 'Human Impact' standard AS/NZS 2208 when installed in accordance with AS1288 & NZS 4223
MEP safety and security window films are endorsed by the *Security Construction and Equipment Committee and have gained ASIO T4P Approval for shatter resistance on certain films.
Saves time and money, removal and replacement is fast and simple, covers up existing surface scratches