Cover Up
Complete Surface Protection Against Graffiti and Vandalism
Graffiti can cost building owners; transport companies and tenants many thousands of dollars in annual clean up and repair costs.
Not to mention the loss of visual appeal in premises vehicles and facilities that is of such important commercial value. The accepted strategy against such damage is to clean off the graffiti as soon as possible, which helps discourage the 'artists' from further attacks.
Now there is a quick and easy way to do this with MEP Films' Cover Up Anti-Graffiti Film.
Cover Up is a crystal clear polyester film with adhesive on one side and a tough patentedscratch-resistant coating on the other. It can be applied to all glazed surfaces and many other smooth non-porous surfaces to provide an effective barrier against damage. The film acts as a sacrificial layer between the vandal and your property.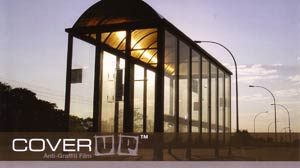 A Removable and Replaceable Barrier
Here's how Cover Up works. This sacrificial film has a special mounting adhesive which allows it to be easily removed and replaced. This avoids the high cost of glass replacement, or the clean up and repair of glazed and other non-porous surfaces.
It also helps 'manage' unintentional damage and normal wear and tear. On glass, it can even help cover up existing scratches, making them less visible. Some deeper scratches may be required to be polished out before application of Cover Up Anti-Graffiti Film.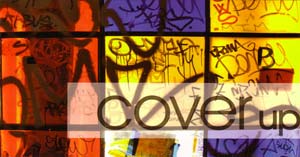 High Clarity and Low Distortion
One of the reasons Cover Up works so well is that is it virtually invisible to the naked eye. It has such excellent transparent qualities vandals don't know it is there. And its scratch resistant coating simply adds to the deception.
Apart from its optical clarity which provides for natural light transmission Cover up also allows distortion-free viewing. Cover Up should be an important consideration in retail as well as many other applications.
Applications
Cover Up has many applications and is suitable for:
exterior and interior glazing
any smooth non-porous surface such as glass, marble, stainless steel
Here's Where It Can be Used:
windows, retail store fronts, display windows, mirrors
stainless steel balustrades, lifts and escalators
transport applications
marble, polished concrete and building facades
malls, stairwells, bus shelters
counter tops and advertising displays
Alucabond
complies with AS2208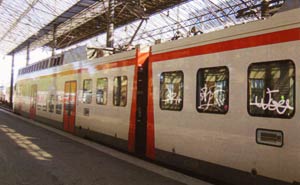 Damage Prevention
Cover Up is effective in minimizing or eliminating the damage caused by:
spray paints and markers
scratching or gouging
chemical etching
normal wear and tear
Cover Up blocks up to 99% UV rays, helping protect furniture, fittings and stock from fading.