The simple solution for enhanced views night and day.
The 'Night Series' range of window films deliver sensational views night and day.
Imagine having a panoramic view of the city, hills or the sea and not be able to see it clearly at night.
One of the shortcomings with traditional solar films is internal reflection. For those inside looking out, the window becomes a mirror, reflects you and the furniture and distorts the view.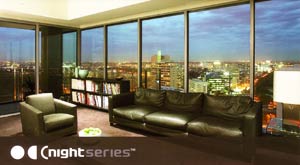 Non-reflective Outlook
Now the remarkable Night Series film from MEP Films has eliminated this problem and delivers and uninterrupted, non reflective outlook, night and day, similar to clear glass. It also provides day time privacy unlike clear glass, enabling you to enjoy the view without those on the outside looking in.
These films are manufactured using state-of-the-art hybrid technology. An aluminium or nickel alloy layer (film specific) is laminated to a UV stabilised high-grade polyester. The polyester incorporates a patented colour impregnation process that stabilises colour fastness and reduces internal light reflection to under 13%.
With such exceptionally low internal and external light reflection, Night Series films are a superb option for large expanses of glass with city, country and water views.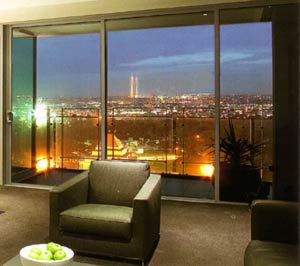 Other Benefits
The films' properties also allow them to block up to 73% of solar heat from entering your home or office, up to 93% of the glare and up to 99% of damaging UV rays. Not only can this result in substantial energy savings, but these films also help to protect valuable assets from fading like furniture, carpets, wood floors and artwork. They are also adept at reducing glare from televisions and computer screens.
Sensational Night Series- changing the way people enjoy their view.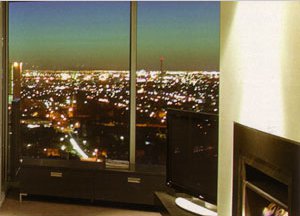 Suggested Applications
windows with city, landscape and water views
offices, shop fronts, homes, commercial buildings
Special Features
very low internal reflection night or day
excellent glare reduction, up to 93%
provides daytime privacy
rejects over 99% of harmful UV rays
up to 73% solar heat rejection
reduces energy costs all year round
attractive low sheen grey appearance externally and internally
lifetime residential warranty
12 year commercial warranty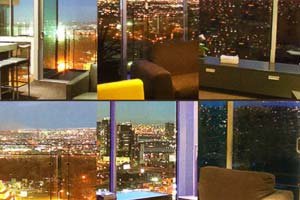 Superior Energy Performance
The Window Energy Rating Scheme (WERS) uses stars as symbols to measure energy performance of different window films. It has been proved that a home taken from a 1.5 star rating to a 5.0 could save up to 30% on heating and cooling costs.
When Night Series film is applied to glass, it contributes to that overall home energy rating. Night Series is available in three levels of density, providing flexibility for different applications.